I never know what I'm going to see when I go to Soho. On Friday I wandered around. I often see celebrities there. I saw Bob Mortimer of Vic and Bob fame. Without thinking I raised my hand in greeting, and he looked a bit puzzled as if he was thinking '
Do I know this person or does he just recognize me from the telly?
'.
I've seen Bill Nighy sitting outside the Italian deli on the corner of Greens Court. Years ago I saw Suggs sitting outside Bar Italia, and more recently Rupert Everett sitting outside the restaurant next door. I even saw Billie Piper once.
I popped in to the internet cafe in Manette Street hoping to get some ideas about what I could do. Someone had left a comment on the blog about a new Chinese masseuse he had seen. She seemed very intriguing. I decided to try and find her. He didn't give me her name but he'd told me where she works.
I went to the place, said I wanted a massage, and asked who they had there that day. The girl in reception gave me a name that I didn't recognize. I asked if she's new. She said she is, so I handed over my £25 to her and sat down and waited.
A woman came up the stairs and greeted me. She looked around 30 and was reasonably attractive. She led me down to a small room with a massage table. She went out of the room and I took off my clothes. She had a strange massage technique, very vigorous, not the usual Chinese massage at all. I wondered where she had learned it.
I wasn't sure if I was in the mood for anything sexual, but when she asked me if I wanted her to wank me I thought yes. Often the women at these places handle my cock too delicately and it doesn't stimulate me enough. I thought maybe she would grasp it firmly and be quite vigorous. I gave her £20, and then the other £10 that I had in my wallet.
I thought I was just going to get a wank, with her naked or half naked. There's something quite innocent about a pretty Chinese girl wanking a man. That's part of the attraction. What I got from this woman though wasn't innocent. We did things that most Soho walk up girls would never do.
After taking her dress off, she got on top of me and rubbed herself up and down. This is called body to body. Then she started wanking me, encouraging me to touch her. I put my hand between her legs from behind and touched her pussy. I then tried to find her bum hole. I found it and after a while I had my finger all the way up her bum.
She pushed her finger up my bum too. They sometimes do this, and often they refer to it as prostate massage. She moved over so that I could suck a breast. Then she put her face next to my cock and smiled as if she wanted me to come all over her face. All of this without me asking.
I've never been with someone who did all this. My guess is that she's worked as a prostitute for years in Asia. Maybe Singapore, Hong Kong or Shanghai. She's come to England and got herself a job in a Chinese medical establishment and she's determined to make as much money as she can.
I wandered around Soho again and in Tisbury Court I saw a very thin scruffy girl who started talking to me. I told her that I knew who she is. I couldn't think of her name though. I said
"You're the missing girl"
. She told me her name is Elise Langham. A couple of years ago I saw a police poster with photos of people who'd been given ASBOs banning them from Soho. One photo was of a girl who I thought I'd seen around Soho. I Googled her name and there were several newspaper articles about a missing girl who everyone was worried about.
She told me that her ASBO had run out so she's back in Soho. Later on I thought I saw Elise trying to get into a block of flats in Greens Court.
I decided to go and see Lily in Greek Street. By now it was early evening. There were people standing outside pubs in Bateman Street and Greek Street. Anybody wanting to go up the stairs of the walk ups would have to walk past them.
When I came out again a woman said
"Did you have a good time?"
. I ignored her and continued walking. There were a few cheers as I walked away. I've never had that before. So Friday for me was a day of surprises and new experiences.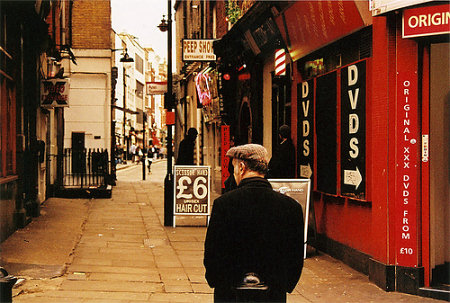 Tisbury Court