Yesterday I went to see Ella at 2 Lisle Street. I was hoping that she would be pretty like Suzy. Someone had said she's good-looking. It just shows how personal and individual tastes are because I didn't find her attractive. I would say that she's above average but nothing special. I didn't find her friendly either. On the other hand, someone went to see Suzy yesterday after what I had written about her and he said he didn't find her attractive at all.
It is possible that the girl I saw wasn't Ella. Last year I went to see a girl in Lisle Street called Evelina because someone said she's a real beauty. There was a sign up saying Evelina but when I saw her I wasn't impressed at all and I left. Then I realised this woman has blonde hair where Evelina was supposed to have black hair. So it was a completely different woman. It looks as if Evelina only lasted a few days in the Soho walk ups.
When describing a girl from memory sometimes your memory can get things wrong. I described Suzy as having a light tan but that was inaccurate. Her skin, although not pure white, is paler than that. They can look different though depending on light levels. After I saw Ella I went to see Suzy in Greek Street. She seemed tired and wasn't wearing much make up but I still think that she's the prettiest girl in Soho. I asked her if she had been dancing all night but she said no.
Then I looked around for who else I could see. I knew that Eva was back in her Berwick Street flat after an absence. I had seen Eva twice before and enjoyed it both times. When I knocked on the door of the upper flat at 70A Berwick Street it was opened by Eva. She told me she would be a few minutes and asked me to sit in the chair. She pulled a curtain next to me so that when the other punter left we wouldn't see each other.
I listened to the muffled sounds coming from the bedroom. There were two women in the kitchen and I could see one of them. She looked about 40 and I found her very attractive. The other woman was the maid; I saw her briefly and she had her hair partly in foil. It looked as if she was dying her hair, which might explain why she hadn't open the door to me. I recognised her as the woman who has a chihuahua dog that she used to bring with her. The two women were talking animatedly. I looked at the unfamiliar woman and wondered who she is; it even crossed my mind that this might be the infamous Claudia come back for a visit.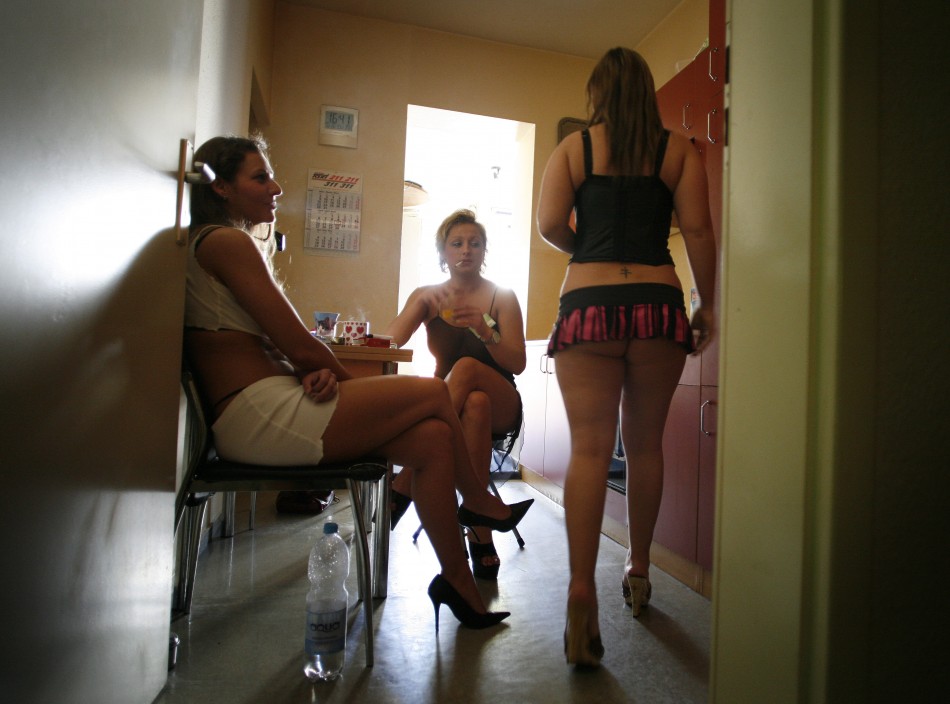 it was a lot like this when I was waiting to see Eva
The other punter left and Eva invited me in. Eva is tall and slender but not too skinny and she had next to nothing on. She has light blonde hair and a pale skin. She is everything that Ella was not. She's attractive and very friendly. She wanted a hug, then a smack on the bum and then another one. She said she thought she remembered me.
I had given £22 to Ella and £22 to Suzy but I decided to give Eva £32. We got onto the bed and she put a condom on and started sucking my cock. After a couple of minutes I said "Show me your pussy" so she lay flat and opened her legs. She wanted me to play with her clit and showed me how she likes it.
She got her vibrator out and started masturbating while I knelt between her legs and wanked myself. She kept going until she had an orgasm, her third of the day apparently. A few seconds after she came I came too. I hadn't come with Ella or Suzy so I was pleased when it happened. She showed me the vibrator saying that it feels like a real penis. I touched it and it felt soft to the touch.
When I was getting dressed we talked about the maid. She goes to the English Collective of Prostitutes meetings apparently. I asked Eva who the other woman is. She said it is Lisa, who works here at weekends. This surprised me because the last time I saw Lisa she had longer blonde hair. Although, as I said, your memory can get things wrong. When I thought about it I could see yes it could be her. So now I am thinking I should make a special trip into Soho on Saturday. I always said Lisa is damned attractive but I fancy her even more now. I'm definitely going to see Eva again though, maybe next Tuesday.